BizStack
BizStack is the All-Inclusive IoT Solution to Quickly Turn Your Product Into a 'Smart' Product!
1) Gain Valuable Insights, Save Money & Retain Customers with Monitoring for Predictive Maintenance.
2) Build a SaaS Model for Your Device, Equipment, Product or Sensor.
3) Increase Value with Customer-Facing Dashboards?
4) Develop New Business With "Smart' Products"
5) Deploy Your 'Smart' Product 4X Faster and Save 70% in Costs
BizStack is an end-to-end integrated IoT platform that can quickly be deployed and our technology stack will save your organization about 70% in costs over having in-house software developers or outside consultants do the work.
BizStack includes a user interface for analytics, visualizations, provides real-time alerts, cloud infrastructure for data storage, and a reliable gateway that connects sensors, devices and supports data transmission.
From mapping products and tracking your assets to creating new income streams with a SaaS, BizStack makes sence for any size organization. Try a PoC that can easily scale!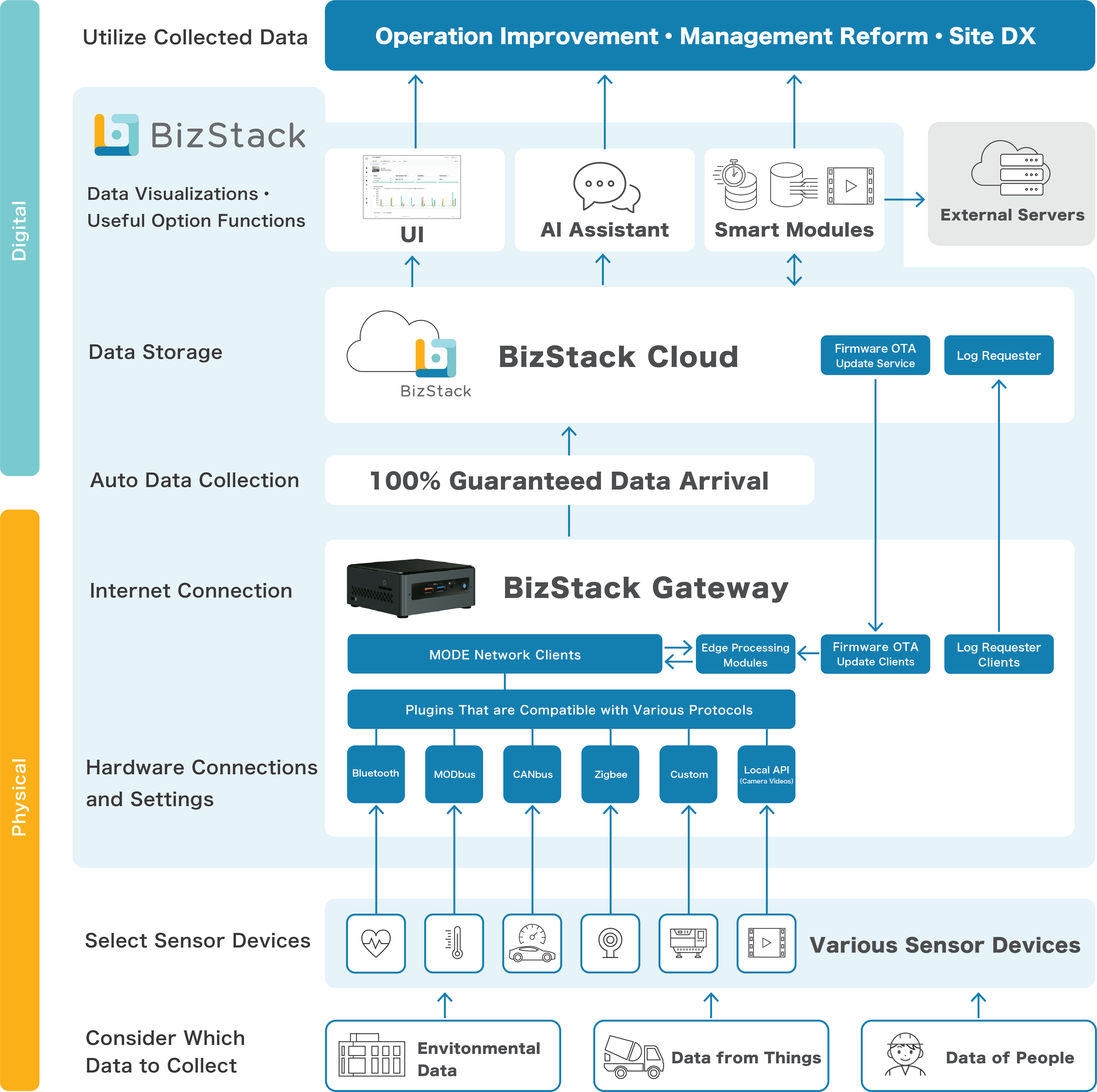 Cloud and Gateway
in One Package
Provides all-in-one services
from gateways to dashboards for collecting, storing, and visualizing data.

Plug-in
Developed by MODE
MODE will develop the connection plug-in with the MODE gateway in as little as one week, so
no development effort is required on your side.

Cloud is
Supported by MODE
Maintenance is carried out by MODE.
Support efforts can be minimized,
allowing your company to focus on business development.
Turnkey IoT Platform Deployed 4X Faster & 70% Less Expensive.
We have had the privilege of collaborating with renowned organizations such as Fujitsu, Panasonic, and Hitachi, who have witnessed remarkable outcomes using cutting-edge technologies. For instance, they have leveraged video-based AI analysis to ensure worker safety, identify unusual behaviors, boost productivity, collect vital data on vehicles and machinery, and even create digital twins for realistic simulations.
These impressive successes began with a Proof-of-Concept, and our BizStack solution proved to be four times faster to deploy and 70% more cost-effective compared to in-house software developers or competing options.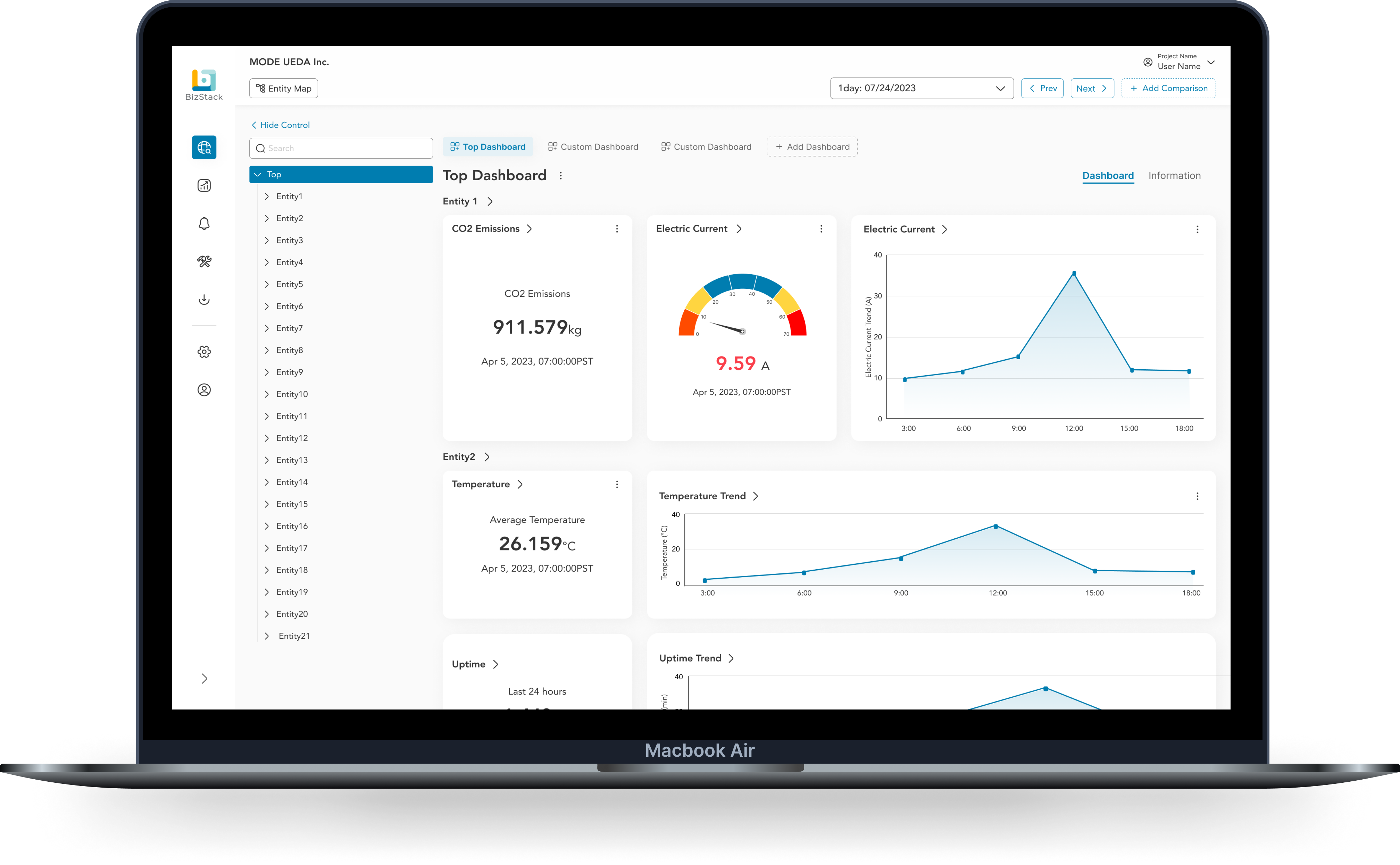 Ready-made, plug & play, and easy to deploy IoT services.
Designed to be highly customizable to make 'smart' products smarter.
100% Guaranteed reliable arrival data from all of your devices, equipment and sensor products.
Data is uniquely prepared, structured, and secured for ongoing IoT and Ai applications, or digital-twin like format.
Proven deployments with some of the world's largest companies!
Easily built SaaS model platforms for your devices, equipment, or sensor products.
Receive data from product from anywhere in the world!
Sensor service plug-in architecture.
Unlike other IoT platforms, data can be simultaneously collected through asynchronous programming -Where experience counts!


Used in over 200 locations and over 30 Global Brands.